​These artistic renderings are almost always associated with the men of the world. While Nerdy Girl Nation leading man, Rob Breyer, has a large collection, leading lady, Emma MacLean, has his collection beat by the hundreds. Girls can love comic books too and some even create them. The question is, which is your favorite?
To find out about the rest of the story, read Nerdy Girl Nation today!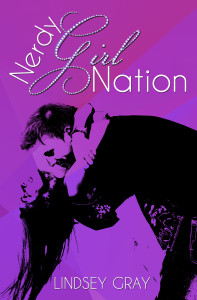 Nerdy Girl Nation
by Lindsey Gray
Published by
Gray Matters Press on October 8th 2015
Genres:
Contemporary Romance
Buy on Amazon
,
Barnes & Noble
,
iBooks
,
Kobo
Add to
Goodreads
Who knew the girl who spent most of her Saturday nights watching Doctor Who marathons with her best friend would end up becoming a reality television star? Not Emma MacLean.
Emma tried to leave the nerdy girl behind as the Vice President of Operations for billionaire venture capitalist, Terrance Hunt, on the hit show Hunt for Life. When double tragedies occur on the same day, Emma is out of a job, but the cameras and a nation of fans continue to follow her.
Rob "Bobby" Breyer lived and breathed the professional wrestling circuit for five years. Rob happens to be a devoted Hunt for Life fan due to a chance meeting with Emma while in high school. When he reaches out to Emma in her time of crisis, he never imagines how much it will change his life.
After twelve years, their attraction still sizzles and this time, Rob's not letting Emma get away. As the cameras roll, Emma's new career and Rob's quest for glory are in the spotlight. When the heat is on, they'll need all the support they can get from the Nerdy Girl Nation.
About Lindsey Gray
Lindsey Gray typed her first complete novel at the age of twelve and dreamed of making her writing into a career. When her eighth grade class wrote a twenty year reunion story, casting her as a mystery novelist, she wasn't sure she could make it a reality. After years of writing off and on, she decided to make a go of it. In December of 2010 she finally made her dream come true with her first published novel, Lies Inside. Five years and thousands of written words later, Lindsey is released her seventh published work, Nerdy Girl Nation, in October 2015.
When Lindsey takes a break from writing, she spends time with her husband of thirteen years and their two children, reading all kinds of romance novels, and hosting her own weekly radio show, Gray Matters, on TMV Cafe Internet Radio.
a Rafflecopter giveaway
About ALL FALLS DOWN (Giveaway Prize)
When Savannah Martin walks in on her abusive boyfriend and her best friend in bed together, she thinks life can't possibly get any worse. And then she wakes up in a hospital in Italy, scared and alone. With nowhere left to go, Savannah runs to the family who took her in when her mother abandoned her as a teenager.
But things aren't as simple as they were then.
For starters, two years of constant emotional abuse has broken Savannah in ways she's not sure can be repaired. And patriarch Matthew Talbot has been murdered, leaving his eldest daughter, Lexi, in charge of a global non-profit and her younger sisters.
Jared Corbit, Lexi's gorgeous boyfriend, is the only thing standing between her and whoever murdered her father. That doesn't stop Savannah from falling in love with him. She knows it's wrong, but she just can't stay away from him when he makes he feel like no one else ever has before.
Finding out his relationship with Lexi is a ruse should make things easier, but when the truth is finally revealed, Savannah's fragile world threatens to fall apart. There's a murderer on the loose, and he's gunning for the only family she has. To save their lives, she and Jared will be forced to make a decision that just might destroy her completely.
How is she supposed to let the man she loves be with another woman?